August 24th, 2012
On December 31, 2001 my husband was admitted to Credit Valley Hospital Cardiac Unit for chest pains. He was assigned cardiologist, Dr. Hans Strauss.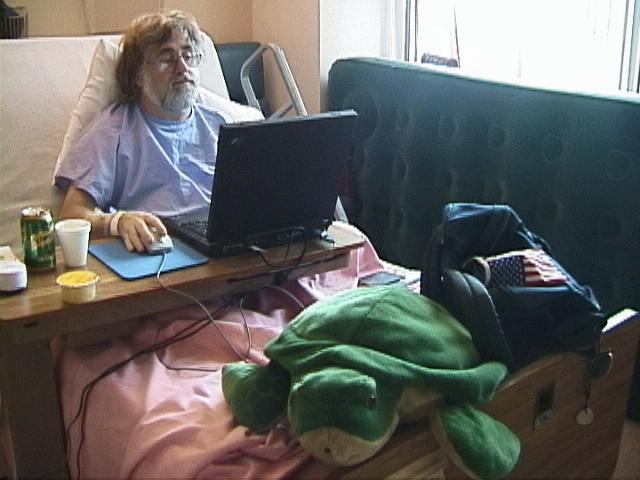 Credit Valley Hospital Cardiac Unit   January 5, 2002
(From my husband's log)
January 1, 2002
The treadmill was a complete disaster. Dr. Strauss expressed no doubt at all now: unstable angina.
He scheduled an angiogram. As soon as Strauss saw the picture, he spotted my problem: two arteries were blocked, one at about 80% and another at 90%.
No wonder it hurt.
January 9, 2002 my husband underwent a double angioplasty. Dr. Strauss reassured us that we could continue to SCUBA dive provided we go on an exercise regimen.
On August 22, 2012 we celebrated our 24th wedding anniversary SCUBA diving with the sea turtles we love and uploaded these two photographs to Flickr.
August 22, 2012. We were so thankful for this day.
Our only other plan was to dive at the Turtle House (much farther out and in deeper water) after Peter's birthday. That had been a goal for him back in January 2002 —to SCUBA dive at 65.
Then we got a call from Canada….
Update  August 27, 2012. We're back in Canada. So click here for today's blog, "Mississauga" Council Code of Conduct, Bonnie Crombie, Justice Douglas Cunningham, George Rust-D'Eye: INTEGRITY *FAIL*!